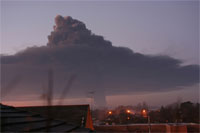 December 11th 2005. Today is the day that will be remembered across the world as the explosion that rocked England. A 6.03 this morning, an explosion at the Buncefield fuel depot, near Hemel Hempstead (7 miles from us in Watford) was heard on the south coast, as far as Hastings.
I Live 10 miles from the blast, the shockwave was so powerful when I woke up my house was facing the other way!
Said Daniel from Hemel (source: BBC News).
Personally, I slept through the whole thing. Ali woke me around 8 o'clock, "you know that explosion this morning?", "Huh?" "It was a big petrol explosion in Hemel. It woke me up!!" "Huh?"
I feel that some of the mass hysteria fuelled by the press is slightly exagerrated, now that the dust is beginning to settle. It's pretty bad, sure – a number of people close to the explosion were probably very scared to be woken up by this first thing in the morning. Reducing fuel emissions may well be affected, and I have no doubt it's cost a lot of people a lot of money. However, I'm glad I didn't rush out and buy as much petrol as I can for the car I don't have – just in case the countries supplies are all used up. Why didn't someone flag down that plane that was flying overhead – think of the devastation that could have been stopped by prevention of this obviously terrorist attack on our country. Oh wait, it's quite near an airport isn't it, that's why it was aviation fuel that went up?
This would never have happened if we hadn't gone into Iraq for all that oil in the first place, would it?
Are we all hoping for a disaster this much – that when something big does happen – everyone feels the need jump on the "the explosion ruined my life" bandwagon? I can't wait for the public inquest, and the damage cheques to be handed out.